Award-winning Salish Sea Map!
Voted 'Best Reference Map' in prestigious map design competition in 2022.
The first and only reference wall map of the Salish Sea!
Two years in the making! This map was designed to inspire interest in the beauty of the vast Pacific Northwest landscape. It will and advance your geographic literacy and awareness of the beautiful and fragile Salish Sea environment which sustains us.
Available as:
1. PREMIUM MAP (26" x 44")
Order the Premium Salish Sea map
2. POSTER MAP (23" x 39")
Order the Salish Sea Poster map.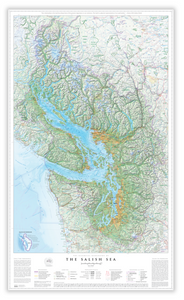 What people are saying about the Salish Sea Map:
"The informational equivalent of a 1,000-page travel guide, The Essential Geography of the Salish Sea treats the viewer to an eye-pleasing overview of this world-class geographic region. The terrain illustration in the background uses multi-source illumination to give landforms a natural 3-D look and brings geography alive. The cultural content covers new ground by including the geography of Indigenous peoples." – Dave Imus, The Essential Geography of the US.
"The Salish Sea is a vibrant and diverse region with many layers of nature, culture, and history to unpack. This large-format map is a window into this complex geography and will certainly be going on my wall." – Stephen Hui, 105 Hikes.
Testimonials from our Happy Clients
I received my Salish Sea Map today.  It is absolutely fantastic! A work of art!

Ken T.
The Salish Sea map is wonderful! Thank you for creating this masterpiece.

Ron C.
I think your map of Garibaldi Park is the best made map on the Canadian market.

Martin S.
If you're going to Manning Park, buy this map. It got us out of a spot of trouble. It's also a work of art.

Alex VH
I liked your [Callaghan] map so much I bought two; one for hiking and one to hang on my wall! Thanks!

Michael D
This [Banff, Yoko and Kootenay Parks] map is a seriously cool and useful map! Where has it been all my life??

James A
Large Format Wall Maps / Folded Hiking Maps
Contact us